This week we took advantage of a beautiful spring day here in Italy and went with Angela to her little county house. Here she has an amazing garden, full of flowers and herbs and, of course, a very equipped kitchen!

We decided to make Peas with "Pallotte casce e ove" - cheese and eggs balls. This recipe was created, like all the other dishes of our tradition, from a very poor cuisine, dependent on the availability of ingredients: we used to eat according to the season and using every last bit of what a well-curated vegetable garden could offer, as well as what the chickens and the sheeps made gradually available: our grandparents got super creative with what they had!
This is a simple dish that is perfect for this period of "advanced spring", all the ingredients are abundant in nature in this period and mixed together they create a super tasty combination!
Peas, sown in late autumn, now are full of their first pods with the tender legumes inside them, and sheep and cows now produce milk in abundance.
The last ingredient of the dish is stale bread, used up to the last crumb: not only bread crumbs help to give the dough the right consistency but make the "Pallotte" softer and tastier.
As for parsley, it generously grows in the spring sun, luxuriantly in the vase on the windowsill.
These "Meatballs" actually have no meat at all in them, making them also a great recipe for a vegetarian dinner!
Let's get cooking: here are all the ingredients you will need: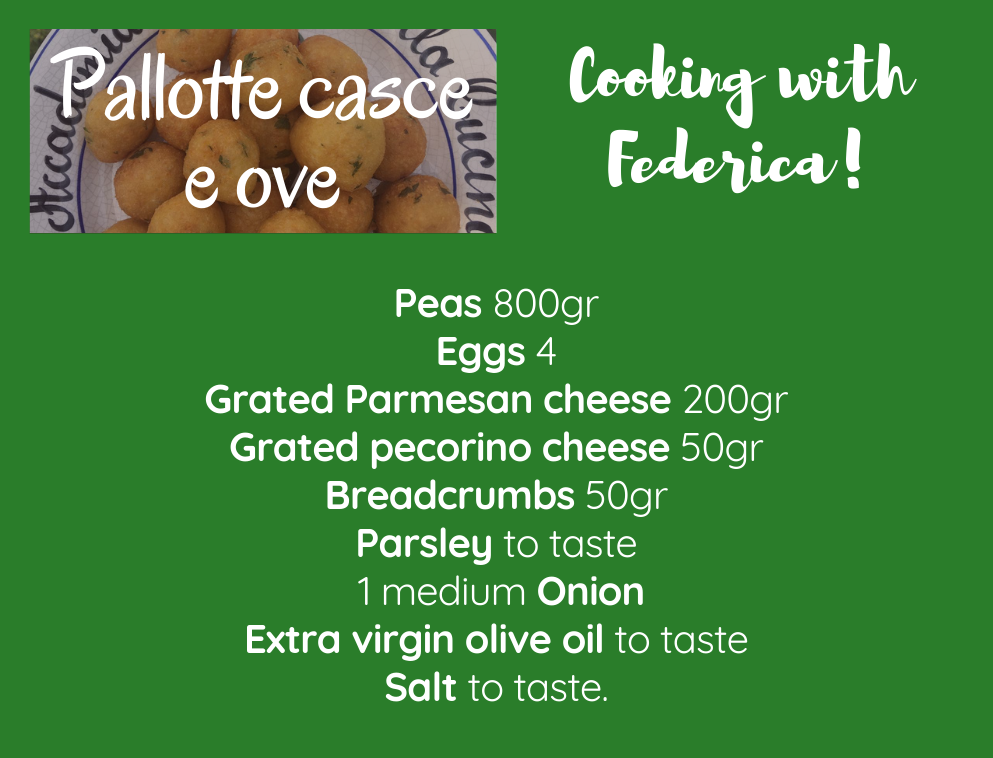 In a pan, brown the finely chopped onion with oil and then add the peas and a pinch of salt. Let it cook a few minutes with the onion and add a little water to finish cooking (without completely covering the peas).
Once ready they should still be rather humid and not completely dry.
Meanwhile, in a bowl, mix the eggs with the cheese and lastly add the stale bread crumbs and parsley, mix all the ingredients well and form as many small balls of 3-4 cm diameter as you can.
Now you have 3 options...
The traditional:
Dip the "Casce e ove" - Cheese and eggs - balls in the pan with the simmering peas. After a few minutes of cooking the cheese balls will be doubled in volume and ready to be served with peas!
The vegetarian Ragù with "meatballs":
A well-known recipe in Molise is the "Casce and ove" with tomato sauce to use as a condiment for pasta. The procedure is the same we followed for the peas: sauté garlic and onion with olive oil and replace the peas with tomato sauce. Let the cheese and eggs balls simmer in the sauce and your vegetarian Ragù is ready!
My Variant:
Whenever we make these I also like to fry some balls using extra virgin olive oil and serve them as a super tasty appetizer or aperitif!
As usual on our Instagram page, you can find the video recipe to follow me and Zia Angela in every step!
If you try this recipe, let me know which variant you choose!
Buon Appetito!
Federica