I'm back with another typical recipe that we love to make around this time of the year. In Cercemaggiore it is called Torchio and I wanted to share a bit more about its history and the beautiful traditions that it is connected to.


Torchio or Pigna?

Although with variations, this simple cake is also found in other towns of my small Italian region, Molise. In other villages, it is known by the name of Pigna - pine cone - and it is sometimes covered with icing and colored sprinkles.
In the Spring in Cercemaggiore a lot of sweet rituals are concentrated. Stating from Easter and going into the Summer a lot of celebrations are organized and also..a lot of weddings! In the peasant world, this season represents a very important phase of the agricultural cycle: coinciding with the rebirth of nature. If you think about it, it comes as no surprise that April and May are favorable for sweets because both eggs and milk abound (and consequently also the cheese indispensable for Fiadoni and Pastiera,the typical Easter recipes), while mother yeast was always available at home because it was put aside when making bread.


Torchio, a symbol of love...


One of the most iconic desserts of the "wedding season" in Cercemaggiore is Torchio: Thanks to the simple ingredients and also to its large size, this typical cake is destined to last a long time: it was in fact saved for days, well preserved wrapped in a white 'mappina'- a cloth woven on the loom.

For the family and for the boyfriends? Yes, this cake is traditionally a sweet present for the engaged. The fiancè used to bring this sweet cake to the bride-to-be together with the engagement ring tied to it with a ribbon. Then she would reciprocate with a basket full of sweets: Fiadoni, biscuits of all kinds, and, above all, the Torchio, as a symbol of future union, of future 'birth' and 'rebirth'.


Let's Bake Torchio together!


Now that we know a bit more about the history of this delicious cake, let's make it at home! You will need some simple ingredients, if you follow my recipe you should have enough to make 8 medium-sized Torchio. I usually love to store this cake for breakfast and also give it as a gift to friends and family. If this is your first time you could try to make half the quantity to get started!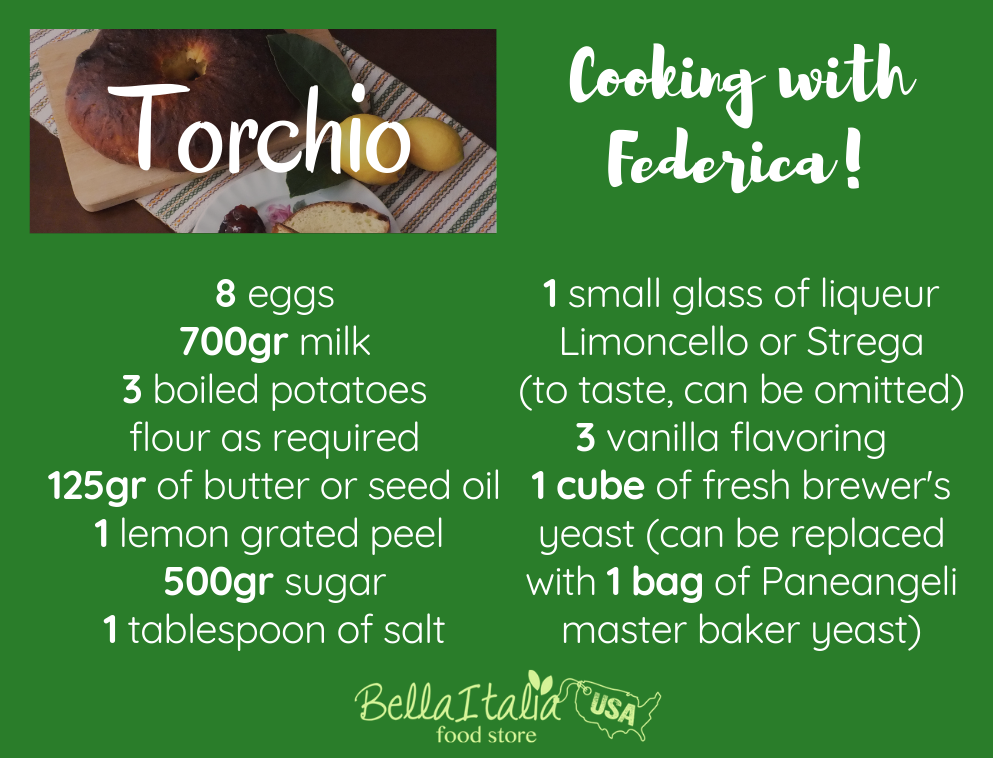 Put this in your cart now:

All the ingredients are kneaded until they reach a soft but not too mushy consistency, then it is left to rise until it doubles it volume.

With the leavened compost, carefully create rather large donutsthat will have to rise again for another 2-3 hours.

Finally, brush the top with egg yolk and bake at 250 degrees for about 15 / 20 minutes,until it reaches a fairly dark color.


Torchio can be enjoyed simple or with Nutella or jam and it is amazing for a healthy breakfast!

I hope you love this recipe and that this inspires you to re-discover other traditional cakes and sweets from your family's cookbooks!
Buon Appetito!
Federica